PMS
MANAGE ALL PROPERTY OPERATIONS IN ONE SYSTEM‎
REAL PLANNING IS A WEB-BASED SYSTEM WHICH ALLOWS YOU TO MANAGE ALL PROPERTY OPERATIONS ANYWHERE, ANYTIME AND FROM ANY DEVICE.
channel manager
THE SIMPLEST DISTRIBUTION SUITE
OUR CLOUD BASED CHANNEL MANAGER BRINGS ALL THE ONLINE DISTRIBUTION CHANNELS IN A SINGLE POINT OF CONTROL EFFORTLESSLY. WITH CHANNEL MANAGER THERE IS NO NEED FOR MANUAL UPDATES ANYMORE. IT OFFERS AUTOMATED, REAL TIME UPDATES ON AVAILABILITY, PRICES AND INVOICES.
RMS & BUSINNES INTELLIGENCE
REVENUE MANAGEMENT SYSTEM
Octorate gives you the most accurate evaluation of the prices to be assigned to your properties rates thanks to its integrated Business Intelligence System.
Booking Engine Evo
RECEIVE SECURE BOOKINGS DIRECTLY FROM YOUR WEBSITE
RECEIVE CREDIT CARD CARD PAYMENTS THROUGH THE HIGHEST SECURITY STANDARD (PCI-DSS). THE BOOKING ENGINE SOFTWARE IS A CLOUD BASED TOOL WHICH ENABLES ONLINE RESERVATIONS DIRECTLY ON YOUR PROPERTY'S WEBSITE WITH NO COMMISSIONS.
OctoSite
YOUR MODERN WEBSITE
Create your website without any effort. A modern Internet site, optimized for mobile devices and user-friendly. Increase direct bookings and save on commissions.
Maintain your site directly from the All-in-One platform and choose between 3 modern themes and natively compatible with the Booking Engine EVO.
Web Concierge
THE VIRTUAL CONCIERGE TO RECEIVE YOUR GUESTS
Communicate real time with your guests thanks to this platform of web communication. Managing guests and reservations has never been easier! From check-in to check-out. Give your guests the possibility to purchase extra services and facilities with Upselling and Cross-Selling.
Allow your guests to choose the payment mode they prefer and pay for their stay with the highest payment standards. Everything through their web application, which they can use without installing or downloading any software or app.
Communication Manager
A powerful communication tool created especially for you!
A single interface to manage all the messages coming from the various enabled portals!
Set up communications that will be sent automatically to your guests during different phases of their stay or based on advanced requirements that will be up to you to decide!
Whenever a guest sends you a message using Airbnb, Booking.com or other OTAs that support this feature, you will be notified and you can communicate directly into Octorate!
A very useful tool to quickly communicate with your guests, without having to enter each portal. Enter the reservation, view the message received and decide whether to reply using your Web Concierge or portal.
Payment Manager
VERIFY CREDIT CARDS IN REAL TIME. SECURE PAYMENTS
Much more than a mere virtual POS, the Payment Manager is an integrated tool for digital payments. You will be able to verify credit cards in real time, receiving transactions through the highest security standards.
You will avoid no-show and frauds saving up to 40% on commission costs.
Metasearch
Increase your visibility, sales and revenue.
Manage your ranking on the metasearch (Google Hotel Ads, Trivago, TripAdvisor, SkyScanner) and increase your visibility online. Check your campaigns' productivity and achieve your sales targets. e aumenta la tua visibilità online.
Self Check-in
OPENING THE DOORS TO THE FUTURE
Thanks to the native integration with Keesy, Vikey and all the main smart lock systems, Octorate will send an electronic key to your guests before their arrival, to allow them easily access your facility and automate the check-in procedures. It will make you save time, erase waitings and offer a unique and safe experience to your guests.
Integrated
Connect your systems
Octorate communicates with your digital marketing, CRM and productivity systems to give you an integrated and easy to use tool, with infinite potential. Imagination is the limit!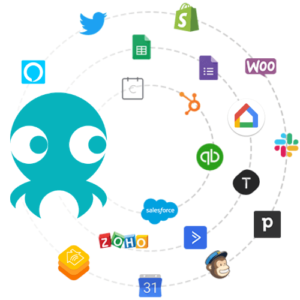 BOOKING.COM 2021 PREMIER CONNECTIVITY PARTNER
Octorate is Booking.com's Premier Partner for the sixth consecutive year.
A certificate of excellence given by the top online hospitality player, which affirms Octorate's management system as an innovative, safe and simple to use solution for Hotels and Vacation Rentals.
Octotable
Booking Engine for restaurant and free digital menu
We chose to increase the sense of community among people and between companies. This is why we did not stop and we took advantage of the time of Covid-19 to create and offer technological advancement to those who have been forced to a setback.
Thus was born Octotable, an innovative digital platform, an opportunity to renew and offer a up-to-date service.
The booking system and the digital menu are free as our community with support provided. Octotable will also offer premium paid features – digital collections, sms sending, integration with the main software etc. – which you can choose to add only if they bring value to your business.
AIRBNB PREFERRED SOFTWARE PARTNER
For the second year in a row we are proud to announce that we have been chosen as Airbnb's Preferred Software Partner.
This recognition is linked to the exceptional level of service offered to our customers and gives us the privilege to connect also hotels to Hotel tonight, recently acquired from Airbnb .
OTA's most innovative and awarded technology provider!